Award Program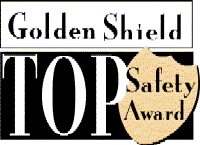 Compliance Plus teamed up with the International Order of the Golden Rule (OGR) to create the Golden Shield TOP Safety Award, the industry's first award for workplace safety.
The Golden Shield TOP Safety Award is the funeral profession's first recognition award for maintaining excellent workplace safety practices. This award will provide tangible evidence to community residents and funeral service colleagues that an independent funeral home extends its high service standards to its employees by proactively meeting basic OSHA requirements.
No more than the top 1 percent (TOP) of funeral homes are expected to be eligible for this distinguished award. The first set of awards will be granted in the fourth quarter of 2005.
For application information, contact OGR's director of education by e-mail, by calling (800) 637-8030, or by contacting Compliance Plus.